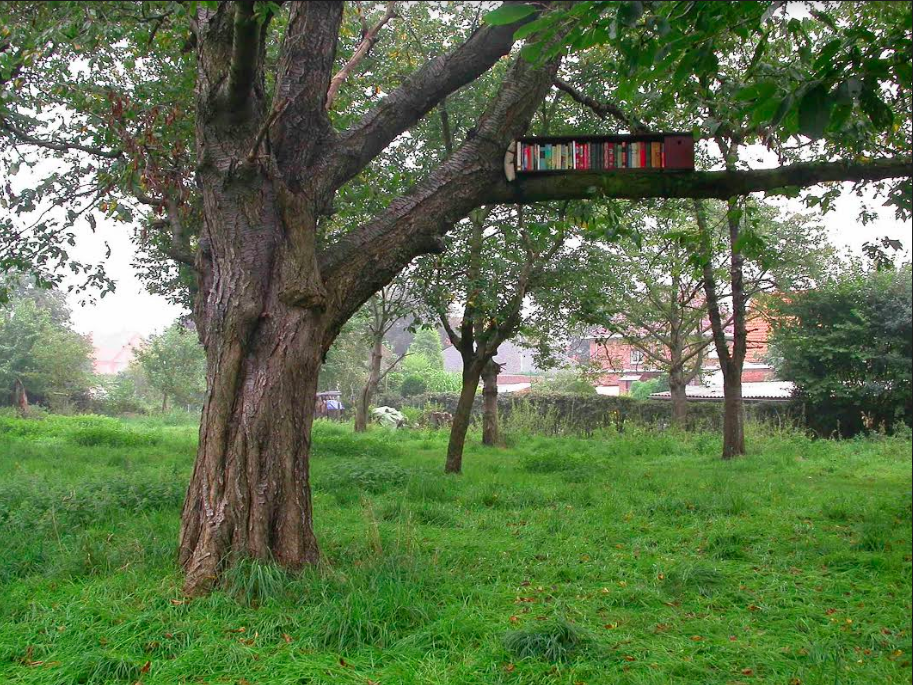 If you have a garden and a library, you have everything you need.




Marcus Tullius Cicero
Global call for your stories.

Libraries as Gardens is a creative project that wants to geolocate and map, on a global scale, the before, during and after of the coronavirus lockdown, through sound recordings and the stories of people, told and read in the libraries of their houses during the pandemic and about the public gardens that they remember. The recordings are simultaneously transferred in an augmented audio project, creating sound walks for the future, in the gardens when they open again, made available (for free) through CGeomap for all their walkers
We ask you to send us two recordings to be made by you in your "personal library" or in your reading space, during the pandemic and before the end of December 2020.
The process of recording and sending can be completely done on this website, in a few steps and in a few minutes, you don't need an own recording device or camera.
The deadline is the end of December 2020.
The final result will be a global map in progress with your sound recordings and stories available from the end of May 2020 on, a walking app for public gardens around the world and curated audio walks in a selection of larger cities: Sao Paulo, New York, London, Brussels, Athens, Seoul - and maybe yours with your help as local editor.
The project is calling to creators worldwide, that are in lockdown. It is collectively created, via this global call, with CGeomap, a digital platform and open-source software for Geo-Storytelling, allowing simultaneous group creation of spatial narratives and writing. The concept of CGeomap is based on collaborative online creation and is a tool of connection with the Earth in our time of global crises. Participation is also requested as a volunteer CGeomap editor and with sound editing skills.
---
If you are not able to access the online Participation Form please contact us by e-mail for an offline form
如果您无法使用谷歌表格,请通过电子邮件与我们联系,进行参与。librariesasgardens@gmail.com
---
---
---
---
Creators:
Katerina Trubina (Moscow, Russia) Haris Pelapaissiotis (Nicosia, Cyprus) Ienke Kastelein (Utrecht, Netherlands) Rosie Montford (Oxford, UK) Tracy Hill (Birmingham, UK) Christopher Kaczmarek (New York, US) Kristina Borg (Malta) Raffaella Zammit (Malta) Rubin Kadiu (Tirana, Albania) Ibrahim Spahíc (Sarajevo, Bosnia) Panagiotis Lezes (Athens, Greece) Laura Apolonia (Granada, Spain) Olga Doulkeridou (Athens, Greece) Johanna Steiner (Cologne, Germany) Eva Kekou (Athens, Greece) Bill Aitchison (Nanjing, China) Viv Corringham (New York, US) Ros Bandt (Melbourne, Australia) Lezli Rubin-Kunda (Haifa, Israël) Thanos Polymeneas Liontiris (Athens, Greece) Anastasia Georgaki (Athens, Greece) Tracey Benson (Canberra, Australia) Hamish Sewell (Queensland, Australia) Alexandros Kyriakatos (Lausanne, Switzerland) Jez Hastings (Peak District, UK) Carole McCourt (North Pennines, UK) Stella Sylaiou (Thessaloniki, Greece) Francesco Carreri (Rome, Italy) Soazic Guézennec (Berlin, Germany) Nora Lefa (Athens, Greece) Katerina Paisa (Nicosia, Cyprus) Lina Chang (Seoul, South Korea) Eman Abdou (Cairo, Egypt) Yoshitsugu Yubai (Hiroshima, Japan) Nikos Menoudakis (Athens, Greece) Elisa Arca Jarque (Canada/Peru) Marcin Barski (Krakow, Poland) Clara Gari (Camallera, Spain) Herman Bashiron Mendolicchio (Barcelona, Spain) Federica Martini (Sierre, Switzerland) Faye Tzanetoulakou (Athens, Greece) Andrée Sophie Cabot (Montreal, Canada) Fabio Fabbri (Genova, Italy) Cristina Kiminami (Sao Carlos, Brazil) Irena Pivka (Ljubljana, Slovenija) Andrew Stuck (London, UK) Bia Papadopoulou (Athens, Greece) Helen Ottaway (Frome, UK) Thanos Vovolis (Athens, Greece) Michael Duggan (London, UK) Filipa Araújo (Guimaraes, Portugal) Max Fernandes (Guimaraes, Portugal) Ursula Werdenberg (Basel Switzerland) Anne Versailles (Brussels, Belgium) Soumyadeep Roy (Kolkata, India) Patrick Mathon (Lyon, France) Matteo Fraterno (Rome, Italy) Dominique Baron-Bonarjee (London, UK)
Beatrice Khoumeri (Corsica, France) Juana Miranda (Brasilia, Brazil) Julie Poitras Santos (Portland - Maine, US) Joey Chin (Singapore) Cratila (Bogota, Bolivia) Gilles Malatray (Lyon, France) Tim Ward (Athens, Greece) Caroline Cho (New York, US) Tiago Mora Porteiro (Guimaraes, Portugal) Laura K Reeder (Boston, US) Alice Neveu (Dakar, Senegal) Greg Giannis (Melbourne, Australia) Marilia Ennes (Sao Paulo, Brazil) Julian Jaramillo (Bogota, Bolivia) Luis Claudio Ribeiro (Lisbon, Portugal) Maria Fernanda Miranda (Vale do Rio Urucuia, Brazil) Vincenzo Pezzella (Brussels , Belgium) Bill Psarras (Aigion, Greece) Thaís Aragão (Fortaleza, Brazil) Maja Thomas (San Francisco, US) (Sol Burt, Brighton UK) Kees Komen (The Hague, Netherlands) Rita Maralla (Italy) Aurora dos Campos (Porto, Portugal) Fabio Manzione (Sao Paulo, Brazil) Christine Dietiker (Aarau, Switzerland) Rosario Forjaz (Porto, Portugal) Adyla Maciel (Sao Paulo, Brazil) Augusto Rodrigues Niemar (Brasilia, Brazil) Renio Quintas (Brasilia, Brazil) Catherine Serre (
Villefranche sur Saône, France) Samprati Pani (Greece) Zdeňka Adlerová (Vyškov, Czech Republic) Barbara Lison (Bremen, Germany) Jasmin Rapti (Athens, Greece) Katerina Sporidou (Athens, Greece)
Refilwe Mathapelo Mofokeng (Cape Town, South Africa) Eleni
Tzirtzilaki (Sifnos, Greece) Francois, (Saint-Maximin la Sainte Baume, France)
Leon Clowes (London, UK) Sophie Cauderlier (Brussels, Belgium) Camila Gomes Sant'Anna (Goiás, Brazil) Marina Mapurunga (Salvador de Bahia, Brazil) Raju Schwarz (Kolkata, India & Basel, Switzerland) Marie-Anne Lerjen (Zürich, Switzerland) Anastasia Peki (Drama, Greece) William Titley (Lancashire, UK) & you
This page will be continuously updated during the global pandemic sharing the collective progress and acknowledging the participating artists, creatives, editors and collaborators.
---
Libraries as Gardens

is an ongoing collective project, curated by Belgian writer and artist Geert Vermeire, and was launched at the Analogio Performance Arts Festival 2018 in Athens, exploring how gardens and libraries overlap, departing from the relation between inside/outside, involving walking, writing and site-specific practices.
In the initial project in Athens in 2018 a group of international artists researched artistically how gardens and their trees can become a library in the public space of Athens, complemented with an exhibition in TAF - The Art Foundation.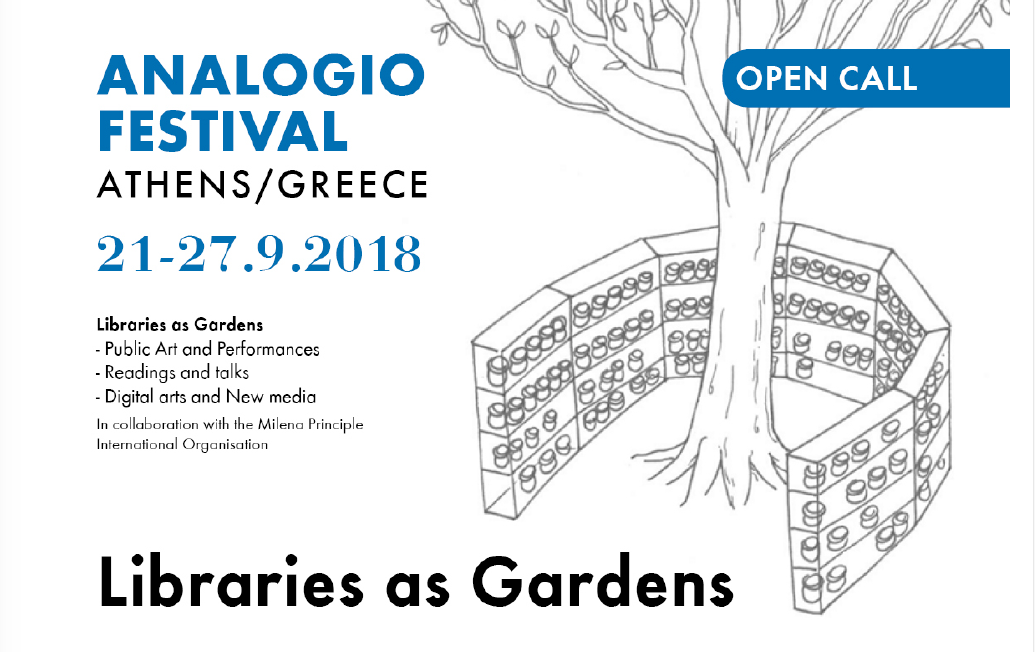 Buildings are for human beings the same way as gardens are for trees. Gardens are places to walk and look, but not to live. How could a garden and its trees become a library? How humans and trees can interact in a garden? How can a garden become productive for the mind?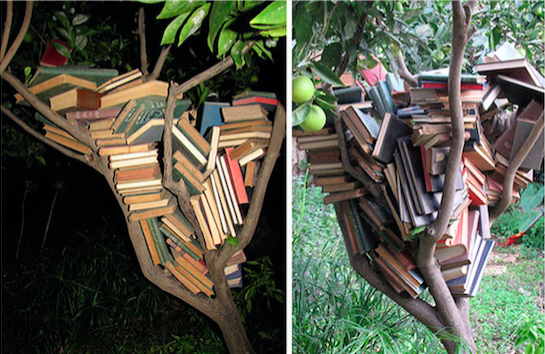 Lezli Rubin-Kunda, Tree-library for Libraries as Gardens in Athens, 2018
The proposed project is developed around human connections and the relation between text and (indoor/outdoor) space, so in that perspective, a library is seen as a garden, and a garden as a library, and how they overlap in our mind, considering that a garden exists as much in our mind as in the physical world, and that to be in a garden is as well to be in our mind.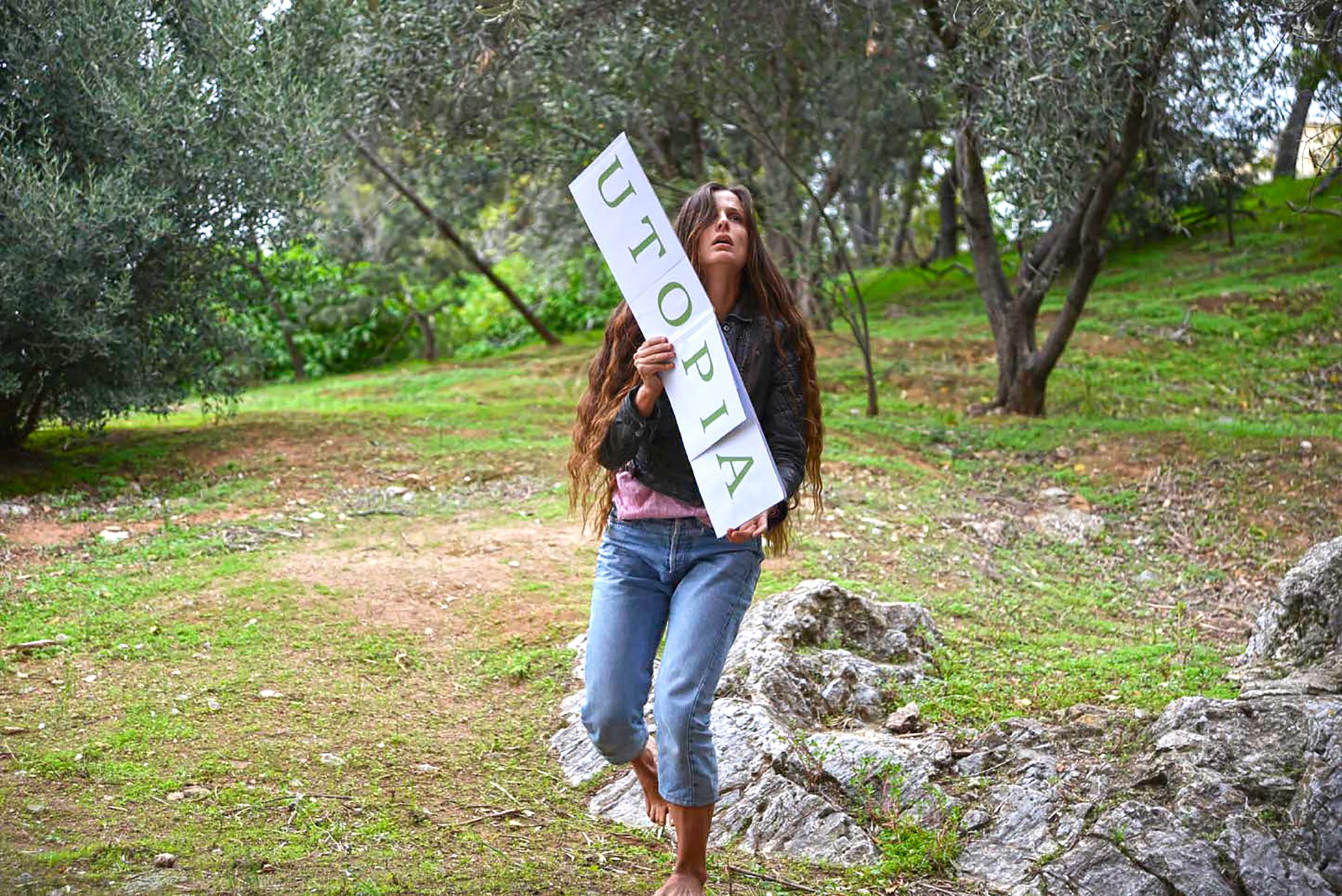 Utopia, a drift for three dancers and silent walkers, Athens 2018. Directed by Geert Vermeire. Utopia-book, artwork by Stefaan van Biesen. Dancer: Olia Mourouzidou.
Moreover, referring to Ray Bradbury's Fahrenheit 451 where the protagonists become walking books (by learning them by heart), we are at the same time all walking libraries, carrying in us the books that are dear to us.

To be in a library is at the same time transcending its time and space, being in two spaces at the time, both inside and outside. This feeling is expressed in the painting of San Girolamo nello studio (Antonello da Messina), where a library - writer's studio is depicted that is at the same time existing inside as outside, with birds around. In that sense, a garden is a library as well, containing nature's knowledge. Walking is eventually what connects mind and space, bringing the inside and the outside together, in both directions: walking moves space inwards, and walking moves the mind outwards.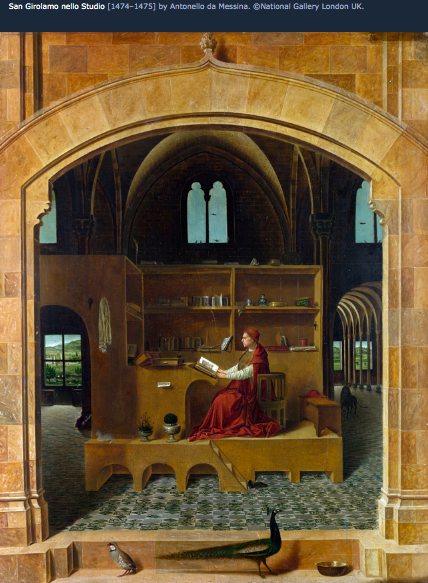 A year and a half residency of Geert Vermeire in the Brazilian capital Brasilia engaged in a long term dialogue between the National Library and the National Museum, applying augmented technologies, locative media and artistic-performative practices of writing and reading in public space, with a symposium and series of exhibitions in the National Library and National Museum, an augmented reality installation bringing a virtual reading garden inside the International Book Fair of Brasilia and was completed with the installation of a "Library of Walks" in the Botanical Garden of Brasilia, a wooden library around a tree, shelving dozens of labeled glass jars with memories of walks.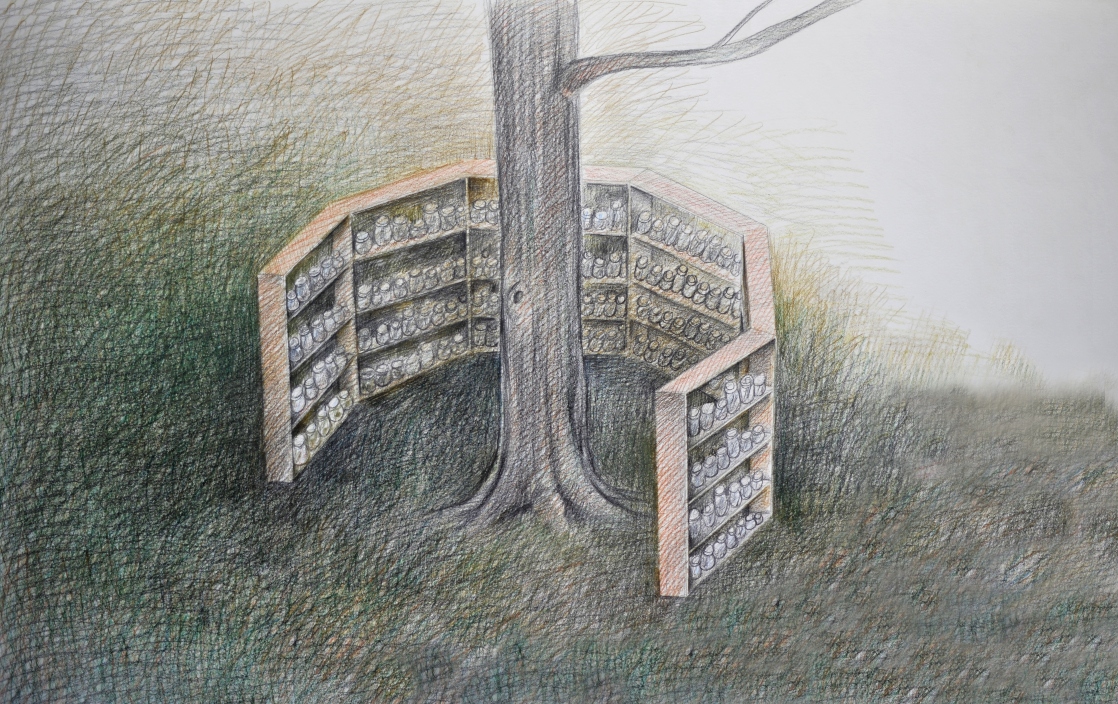 Library of Walks, pencil study by Stefaan van Biesen.
The Library of Walks is an artistic trajectory by the Belgian artist Stefaan van Biesen since the 1990ies, elaborated with Geert Vermeire since 2003, when they undertook their first group walk together to read a forest as a library, during the Art Biennale Beeldig Hof ter Saksen in Beveren in Belgium. Their approach expanded in the years after with collaborative texts, a corpus of letters to each other, works of art and performances, continuing till today. On a parallel and convergent way, they develop the concept of archiving walks into projects that transform outdoor spaces into libraries, suggesting new ways of reading the landscape and rewriting it, but equally transforming also indoor libraries in augmented spaces, uniting sound and silence, outside and inside, the mental and the physical, knowledge and nature, and by creating local and global networks of people. Their works unfold around human connections, text and space, resulting in works of arts, site-specific interventions, locative media and creative walks engaging both with the landscape and with those walking through the landscape.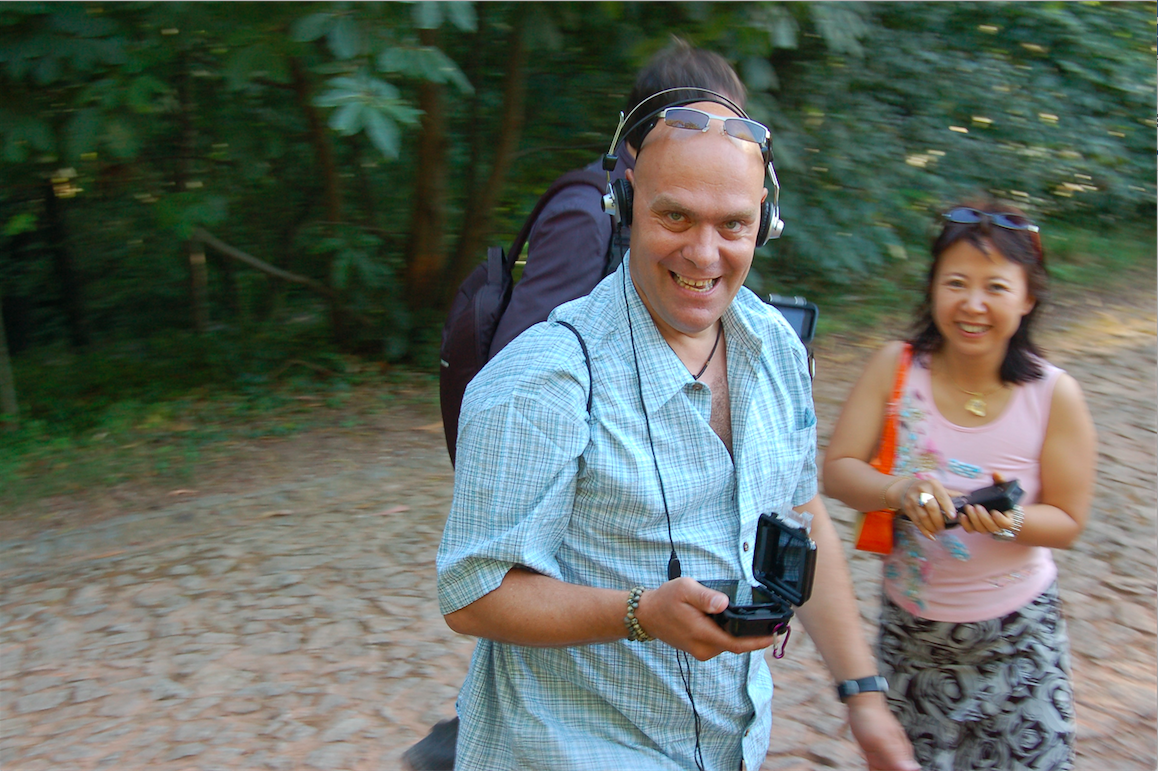 A walk in the garden of the Serralves Museum, Porto with noTours, Horacio González and Xoan Xil López.
In the last decade they use the medium of locative technologies intertwining the digital with alternative ways of knowing and connecting, relating to intuition and the senses. Next to walking with people in and around libraries or a landscape perceived as a library - in silent or sensorial walks- they collect digital traces, recordings and other media that are a living archive of movements of people, as a digital library of walks.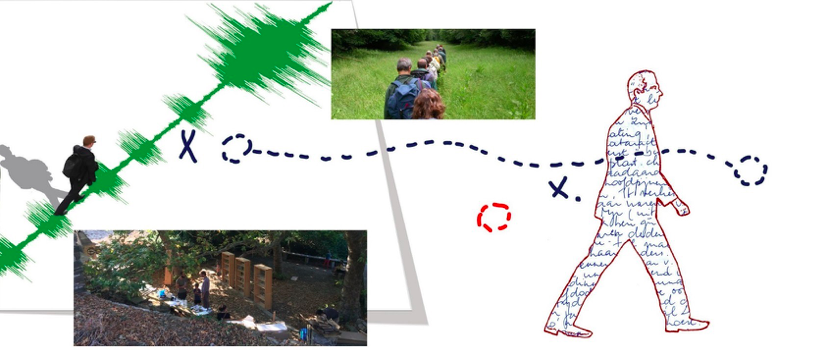 Library of Walks - excerpt of a digital print at Libraries as Gardens, Athens, 2018, by Stefaan van Biesen en Annemie Mestdagh.
In the early 2010ies already exploring the potential of spatial and locative writing as a team member of
noTours
, Geert Vermeire now extends his creative interest into walking and libraries by joining the
CGeomap
collective, a group of artists and developers, operating through a digital platform and open-source software for Geo-Storytelling. This online platform is allowing the simultaneous group creation of spatial narratives and writing. The concept of CGeomap is based on collaborative online creation and is a tool of connection with the Earth in our time of global crises.
His first project with CGeomap - Ecumenopolis (2019), initiated in the megalopolis Sao Paulo in Brazil, is collectively exploring and overlaying silences and sounds inside and around major libraries of the world (Sao Paulo, London, Athens, Moscow).
With the new project - Libraries as Gardens - Geert Vermeire wants to look into the potential of collective creation and imagination to connect us on alternative and deeper ways during the COVID-19 pandemic, by inviting to all creatives to examine how their personal library can transform into a garden through mind walking and their memories about the now forbidden territories that public gardens became.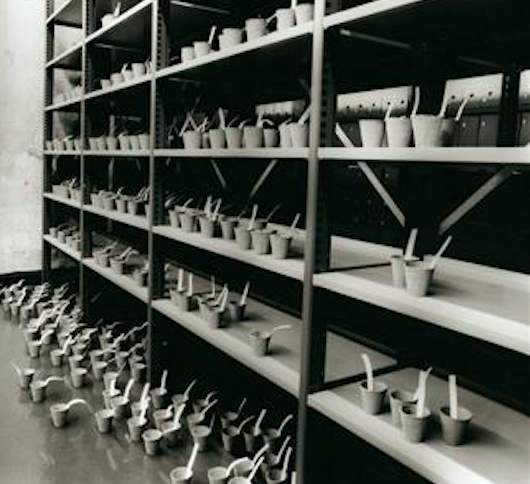 Growing words in organic plant pots in the home library of Geert Vermeire, Bruges.
Installation by Stefaan van Biesen.
A project by

Credits image on top: Appendix, by Stefaan van Biesen